Barbara Bel Geddes - The Early Years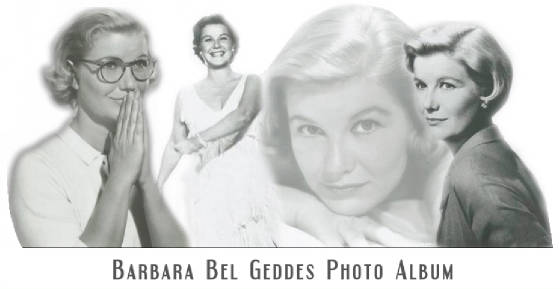 Barbara Bel Geddes - The Later Years

I have been a fan of Barbara Bel Geddes since she first appeared on the hit TV show Dallas in 1978.
I decided to do a web site as a tribute to her as there is a lack of information about her.
Barbara Bel Geddes had a long and varied film and stage career before appearing as Miss Ellie in Dallas, mother of JR and Bobby Ewing.
The web site features many of the photos I have aquired of her over the years, relating to Film, Stage, TV appearances and off screen too.
I would like to say a BIG THANK YOU to Christo and Lukas who supported me, inspired me and gave me advice, their time and patience.
I have been collecting Dallas articles and photos since 1980 and I would be grateful if people did not use them for their own sites as it takes a lot of time, patience and effort to scan them in and a lot of money to buy them!
Barbara Bel Geddes retired from acting in 1990 and now lives in Maine. She was widowed in 1973 and has 2 daughters - Susan and Betsy.