Welcome to my web site about my favourite actress
Barbara Bel Geddes
(Miss Ellie Ewing Farlow)
1922 - 2005
Barbara Bel Geddes - The Early Years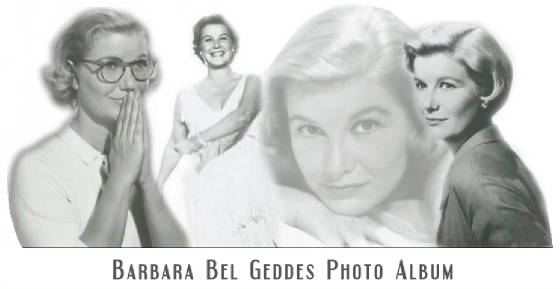 Barbara Bel Geddes - The Later Years

I have been a fan of Barbara Bel Geddes since she first appeared on the hit TV show Dallas in 1978.
I decided to do a web site as a tribute to her as there is a lack of information about her.
Barbara Bel Geddes had a long and varied film and stage career before appearing as Miss Ellie in Dallas, mother of JR and Bobby Ewing.
She was the only member of the Dallas Cast to win an Emmy and Golden Globe award in 1980 and 82. The award in 1980 was for the episode Mastectomy, where as Miss Ellie she re enacted her own battle with breast cancer in the 1970s.
The web site features many of the photos I have aquired of her over the years, relating to Film, Stage, TV appearances and off screen too.
I would like to say a BIG THANK YOU to Christo and Lukas who supported me, inspired me and gave me advice, their time and patience.
I have been collecting Dallas articles and photos since 1980 and I would be grateful if people did not use them for their own sites, or post on other web sites, as it takes a lot of time, patience and effort to scan them in and a lot of money to buy them!
Since some people dont quite understand this concept, this web site will no longer be updated!
I wish that people WOULD NOT PINCH other peoples photos.
Barbara Bel Geddes retired from acting in 1990 and lived in Maine. She was widowed in 1972 and had 2 daughters - Susan and Betsy. She enjoyed painting, watching birdlife and walks in the countryside in her spare time.
Sadly Barbara Bel Geddes died on Monday 8th August 2005 from lung cancer. My thoughts go to her family at this sad time, but she will never be forgotten and has left a wonderful legacy behind. She was a very special lady.